Graduation Eligibility Review
Log Onto the Campus Portal > Information System > System of Academic Affairs > Students Grades Query System

Students who are graduating or who have deferred graduation in the current semester must complete the registrants process before the function "Graduation Eligibility Review" shows up in the menu on the left on the page of Academic Scores Lookup.

The Graduation Eligibility Review System is based on the curriculum criteria of the academic year the student was admitted, and the comparison is based on the course code (7 digits) of the subjects completed by that student.
Minimum English Proficiency Requirement for Graduation
NTUT has made different policies about the requirements of English proficiencies tests for undergraduates admitted between Academic Year 2012-2015, and in Academic Year 2016. Please read the "Guidelines for Minimum English Proficiency Requirements for Graduation" for details.

As of Academic Year 2016, students (except English majors) may apply for credit transfer/waiver regarding the freshman course "English in Practice" and the sophomore course "Diversified English" with the Department of English before the process of adding/dropping courses ends during the first semester of the first or second academic year. No late application will be accepted. Please read the "Guidelines for Waiver of English Courses" for details.
Graduation Exit Process
Complete graduation regulations are conducted in accordance with the regulations of each department.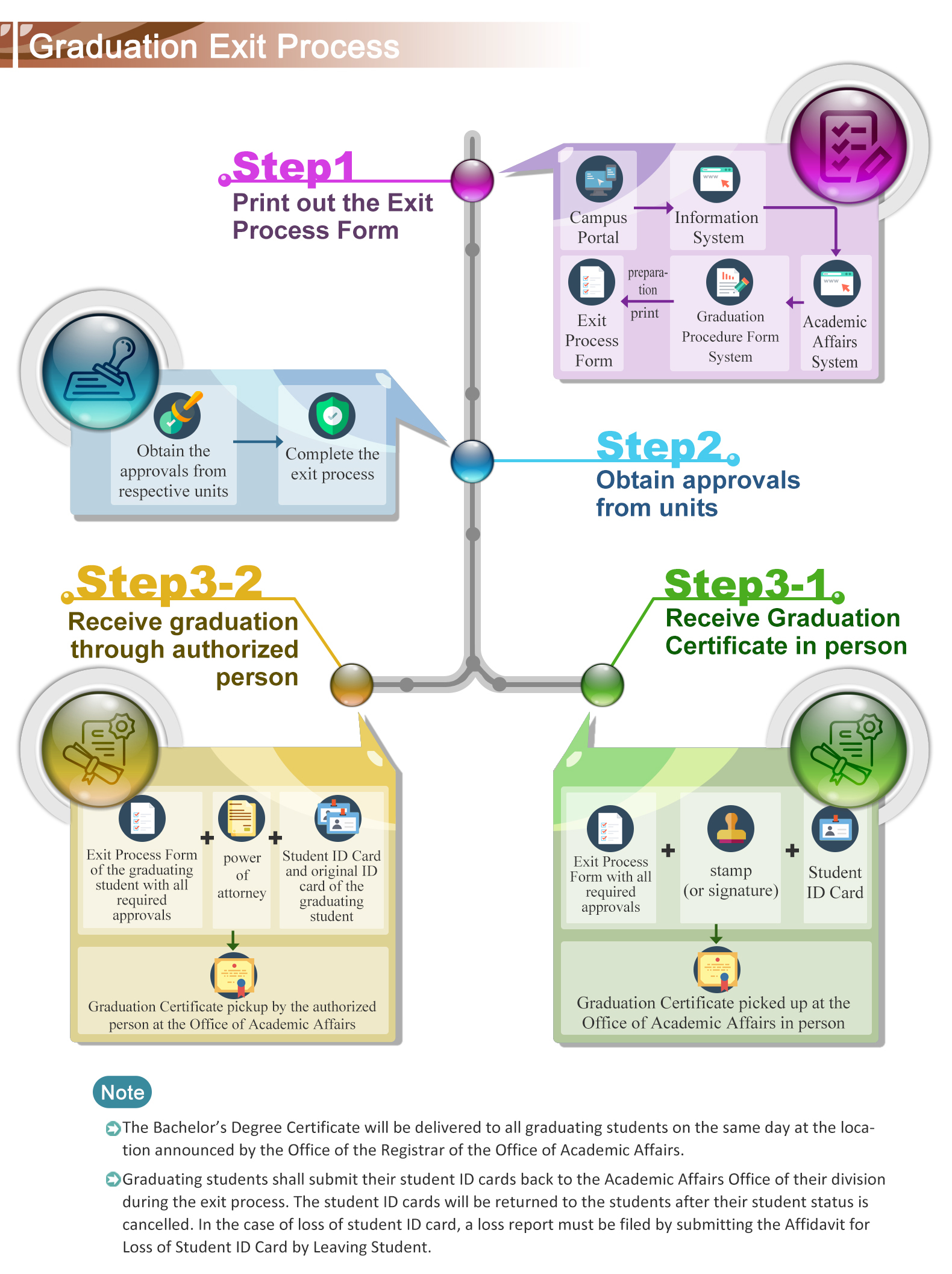 Please log in Taipei Tech Portal→Applications→
System of Academic Affairs→Reporting a Lost Student ID Card System
Student ID Card Replacement Procedure
(1) Reporting a loss: Please use this system to report a loss. Students can check the loss reporting process on the EasyCard official website via this system. Print the application form those who apply for Suspension, Termination of Studies or Graduation.
Ms. CHEN, E-mail:mei0209@ntut.edu.tw, the College of Design
Mr. LIU, E-mail:right60670@mail.ntut.edu.tw, the College of Management
Ms. LI, E-mail:cherry@ntut.edu.tw, the College of Mechanical & Electrical Engineering
Ms. TENG, E-mail:acteng@ntut.edu.tw, the College of Electrical Engineering and Computer Science
Ms. LIN, E-mail:suehsin@ntut.edu.tw, the College of Engineering
Ms. HO, E-mail:hueiru@ntut.edu.tw, the College of Humanities